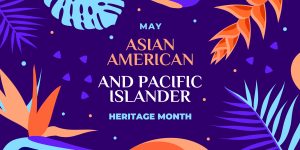 Did you know there are approximately 20 million people who identify as Asian Americans and Pacific Islanders and make up about 7% of the overall population in the United States? Did you also know that more than 30 different nationalities and ethnicities make up the broader Asian American and Pacific Islanders group?
The month of May is recognized as Asian and Pacific American Heritage Month, in addition to Foster Care Awareness Month. It's a time when we honor all of the unique pan-ethnic identities, experiences, histories, cultures, contributions, and influences of Asian Americans and Pacific Islanders in the US.
Asian/Pacific American Heritage Week was first introduced to Congress in 1977 by Representative Frank Horton. In 1978, Congress passed Asian/Pacific American Heritage Week Congress to coincide with two important milestones: May 7, 1843–the arrival of the first Japanese immigrants in the US, and May 10, 1869–the completion of the transcontinental railroad in which Chinese immigrants made up over 90 percent of the workers.
This year's theme is "Advancing Leaders Through Collaboration." The 2022 theme highlights encouraging and recognizing the talent of Asian American Pacific Islander community leaders in local and national government. You can learn more about this initiative in the article released by the Federal Asian Pacific American Council. You also might want to visit Milwaukee PBS to watch special programming dedicated to highlighting Asian Americans throughout this month!
Recommended Resources
From the Lending Library:
Additional Resources: