It's not hard to imagine all the benefits to the children in our care when we have good co-parenting relationships with their birth parents. However, what can be challenging is knowing how to build those relationships. In the No Matter What video, Everyone has a Story, foster parents Eric and Sarah lay out a simple but powerful blueprint for opening the door to healing: embracing the child and the whole family.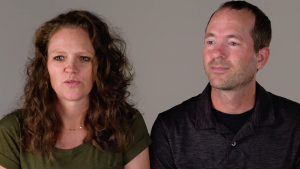 Click on the image to view the video now
As Sarah puts it, "We wanted to show the families that we are there for them … that we care about them and want to help them and be that support." They recognize how crucial it is to feel that someone is in your corner at an extremely difficult time. Eric points out that taking the time to get to know families and have compassion for their struggles "breaks down walls." You cannot help but be moved and inspired by their hope that extending love and compassion to the whole family will be enough to give parents the courage to create change.
Recommended Resources:
Training & Resources From Champion Classrooms
Tip Sheets
From the Lending Library