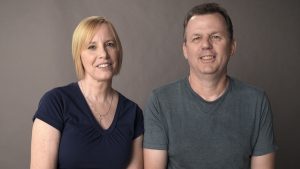 Click on the image to view the video now
I felt immediate relief when I first watched this video from Lori and Karl. When I showed this video to my parents, they felt the same. It was comforting to know that we weren't alone in these experiences of adopting a child internationally. Like their daughter Nadia, my family adopted a four-year-old girl from Russia in 2004. She was the absolute cutest and sweetest little girl, and I was thrilled to have a little sister.
Another similarity between their daughter and my sister was the fits of rage. While my sister was still this absolutely precious little girl, her tantrums and anger started to give way. She would scream, hit, kick, and bite without any warning or indication. She would punch the walls and make holes with her tiny fists. These explosions of emotion felt like they would never end, and they carried on for years. She spent the first four years of her life in a horrible, extremely abusive orphanage; who could blame her?
Despite the struggles and challenges, we loved my sister infinitely. No matter the extreme behaviors, she was a part of our family, and nothing would ever change that. I didn't care if people judged us or didn't understand why we adopted a four-year-old as opposed to an infant. While some people may be wary of adopting older children, it was my family's best decision. My family knew that with love and hope, and consistent therapy efforts, we would be able to overcome any obstacles we faced. And we were right. My whole family became dedicated to learning about her trauma, how it affected her behaviors, and how we could work together to help her when she has those strong emotions. I love my sister and best friend more than anything in this world, and nothing could have stopped my family from giving up hope.
The whole point of the No Matter What Families videos is to remind families that they are not alone on their journey of adoption, foster care, or kinship caregiving. Thanks to the Coalition, Lori, and Karl, this video provided my family with that support and inspiration, even years after we experienced our most challenging times.
Recommended Resources
From the Lending Library:
Tip Sheet: