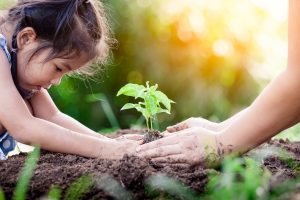 Remember when you were a kid and you spent the majority of your time outdoors–bike riding, catching caterpillars, running, digging in the dirt, stomping in puddles, swimming, ice skating, and building snow forts? Unfortunately, most of today's kids have moved indoors–spending mere minutes per day outside.
Children and Nature Awareness Month encourages families to get outdoors and reconnect to nature. "Unplugging" and engaging in outside nature activities (for kids and parents) benefits physical and mental health–including enhancing creativity and concentration, renewing energy, significantly improving mood, and accelerating recovery from stress. Don't have time to travel to Wisconsin's great nature spots? Even Wisconsin's most urban areas have easily accessible ecology centers.
Whether it's as simple as exploring your own backyard or taking in Wisconsin's bountiful state parks and awesome natural wonders, getting out in nature will do your family good.
Below are some activities to invigorate your family:
Nature scavenger hunt
Take a hike
Start a family garden or plant a tree
Explore your local nature centers and reserves
Visit Lake Michigan
Recommended Resources
Additional Resources