PBS Wisconsin Education creates and curates free-to-use, Wisconsin-focused educational media for grades PreK-12, including videos, games, and interactive content. We invite you to explore these exciting resources for a summer of possibilities with children in your care!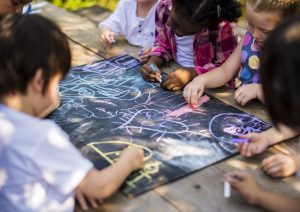 Grades PreK-2
Discover kid-tested programs, games, and activities you can use at home or on the go at pbswisconsin.org/education. Keep busy all summer with the PBS KIDS Summer Activity Booklet, or check out the latest PBS KIDS series, Work it Out Wombats, which focuses on computational thinking skills that help children solve problems, learn flexible thinking, and understand how to express themselves. You can learn more about helping children think creatively with games and activities based on the show as well.
Grades 3-8
PBS Wisconsin Education creates award-winning, fun games and media based on Wisconsin history:
Jo Wilder and the Capitol Case is a point-and-click adventure game featuring Jo Wilder, a girl who uncovers the real stories behind mysterious artifacts from two movements in Wisconsin State history!
In The Legend of the Lost Emerald, players dive underwater and gather clues to build evidence and uncover the real treasure—the stories of shipwrecks inspired by real Great Lakes history.
Wisconsin Biographies is a fantastic collection that brings the vibrant stories of notable Wisconsin people to life through videos, digital books, and image galleries. From Harley Davidson to Vel Phillips, there are 18 stories to explore.
Grades 9-12
High school-age learners have so much to choose from too! Start with Above the Noise, a series hosted by Myles Bess, that examines interesting topics in the news that affect young viewers' lives. Or spend some time exploring the languages and cultures of Native communities in and around the Great Lakes with The Ways.
Enjoy this summer with these trusted educational resources and stay updated with all that's new at pbswisconsin.org/education.
A special thanks to Marci Glaus from PBS Wisconsin Education for her guest blog post contribution!