National Hispanic Heritage Month is an annual celebration that honors the history and culture of both Latino and Hispanic Americans. This year's theme is "Latinos: Driving Prosperity, Power, and Progress in America."
National Hispanic Heritage Month will be celebrated from September 15 to October 15 and commemorates how those communities have influenced and contributed to American society.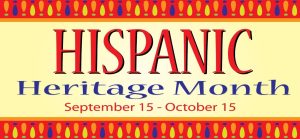 During this span of 30 days, Spanish-speaking people observe numerous significant days in their cultures and histories. Costa Rica, El Salvador, Guatemala, Honduras, and Nicaragua celebrate their independence anniversaries on September 15. Mexico marks its independence on September 16, while Chile does so on September 18. Additionally, this period encompasses the observance of Columbus Day or Día de la Raza.
The Coalition invites you to recognize, honor, and celebrate National Hispanic Heritage Month! We have included several supplemental resources below, and we would love to hear how you and your families honor, recognize, or celebrate! Let us know at info@coalitionforcyf.org, comment on this blog post, or share on Facebook.
Recommended Resources
Additional Resources