Thanks to supportive donors like you, the pilot program, "Co-parenting through Connection," launched in February. "Co-parenting Through Connection" is a four-module blended learning series on building connected relationships between birth parents and foster parents. The course is unique to our current training catalog. It is a blend of self-paced online modules with real-time shared discussion boards and weekly live Zoom discussions over five weeks. The modules explore four key areas: foster care and grief, empathy, communication, and parent resilience/support. Studies consistently indicate that supportive relationships between birth and foster parents can significantly reduce the trauma of out-of-home care and create more positive outcomes for children and youth.
A pilot group of eight participants from across the state, with varied backgrounds and experience, committed to completing one online module each week and attending weekly live Zoom discussions. We set a collective goal of creating a supportive and non-judgmental space to share experiences, explore course content through activities, and practice strategies for creating "connection." Throughout the week, participants also engaged with one another using online discussion boards.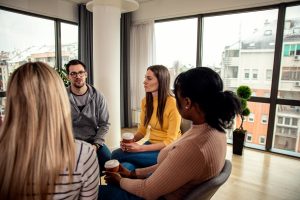 The feedback we have received from this pilot program has been excellent and encouraging. Here is what participants are saying:
"The mixed format, online learning followed by discussion, was amazing. This is the best training I have ever taken as a foster parent."
"I looked forward to our weekly meet-ups. It made the discussion boards in the modules even more meaningful because I knew the person behind the comments. I loved seeing everyone's reflections and comments."
"Loved the course. It should be required, especially for new foster parents, before they get placements. It should be required for workers, too."
"I'm going to miss seeing our group each week! I came into the course with a lot of great experience working with birth parents, but going through the course with other parents enriched the experience. I had fun and learned a lot."
"I've always done my best to have a respectful relationship with the parents of children I cared for. Now I feel more supported in wanting to co-parent with them."
"Just knowing there are simple things I can do that can truly make a huge difference in the success of bio parent's reunification status is motivating. I've started giving Mom sincere compliments on small things. It's made a noticeable difference in our relationship."
"It was sobering to think how showing empathy and compassion to another parent in need of support can be life-changing in interrupting a cycle of intergenerational contact with child welfare systems."
With your support, we can continue to develop and expand similar learning experiences that make a difference in the lives of children, families, and communities.